Latest Cricket Prediction
Sri Lanka vs Afghanistan
3rd Sept 2022
Sharjah Cricket Stadium, Sharjah
Astro - Analysis:
This match will be crucial and critical. The match will go beyond the spectators. Both teams will perform equally well. Sri Lanka will have to struggle for a while but they will make up. It is really a hard working match. At the end, there will be a tug of war. there will be a minor difference in the victory. Finally, Sri Lanka will win.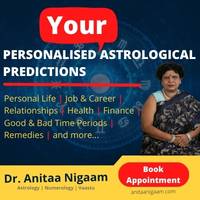 Disclaimer
The views and predictions in this article are of the astrologer Anita Nigam. Anitauniverse.com and Anita Nigam do not undertake any responsibility for the correctness or accuracy of the predictions. Anitauniverse.com and Anita Nigam take no responsibility for any monetary loss by any one from bets/gamble based on these predictions. The Astro-analysis above is of non-commercial use.
No Refund Policy: If a match get abandoned / tied / wash out / draw or did not happened because of any reason, there will be no-refund of the money nor it will be adjusted against any other match.
Recent Events
You can also see
Soccer fans are crazy about Dr. Anita's predictions for European Soccer Leagues like English Premier League, Scottish Premier League, Spanish La Liga, German Bundesliga, Italian Series A and other soccer tournaments.

Dr. Anita is famous predictions for Australian Open, French Open, Wimbledon and US Open.

Dr. Anita also famous for other sports like Hockey and Rugby