Latest Cricket Prediction
Lahore Qalandars vsIslamabad United
Venue: Karachi, Pakistan
Date: 09-06-2021
Astro Prediction:
The match will be highlyexciting and entertaining. Here will be tough fight amongst both. IslamabadUnited will fluctuate match as per regular interval. This ups and downs willmake match more mysterious. Lahore Qalandars will perform well and admirable.At the end, Lahore Qalandars will win.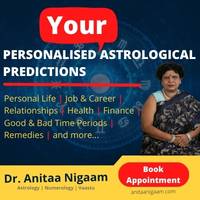 Disclaimer
The views and predictions in this article are of the astrologer Anita Nigam. Anitauniverse.com and Anita Nigam do not undertake any responsibility for the correctness or accuracy of the predictions. Anitauniverse.com and Anita Nigam take no responsibility for any monetary loss by any one from bets/gamble based on these predictions. The Astro-analysis above is of non-commercial use.
No Refund Policy: If a match get abandoned / tied / wash out / draw or did not happened because of any reason, there will be no-refund of the money nor it will be adjusted against any other match.
Recent Events
You can also see
Soccer fans are crazy about Dr. Anita's predictions for European Soccer Leagues like English Premier League, Scottish Premier League, Spanish La Liga, German Bundesliga, Italian Series A and other soccer tournaments.

Dr. Anita is famous predictions for Australian Open, French Open, Wimbledon and US Open.

Dr. Anita also famous for other sports like Hockey and Rugby